Wholefoods
Organic Nuts, Beans & Seeds
A large variety of organic products in 1 kg bags (or larger to order) and in smaller sizes bagged in shop to minimise packaging and cost.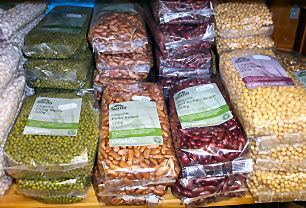 Organic Dried Fruits & Vegetables
A good selection of wonderfully intense flavours and concentrated nutrients for creative cooking or healthy snacking.
Buy-by-weight Staple Foods
Packaging free and low cost, bring in your own container or bag exactly the amount you need.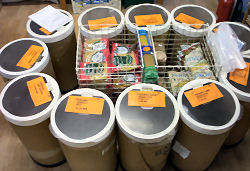 Suma Grains - organic Red Lentils, Long Grain Rice, Short Grain Rice, Basmati rice
Suma Cereals - organic Gluten Free Muesli, organic Muesli, organic De-luxe muesli, organic Oats, organic Jumbo Oats, Crunchy Apricot Muesli, Nutty crunch cereal


Organic Breakfast Cereals
Breakfast cereals as healthy as they should all be, little or no added sugar and salt, no artificial colours, flavours or preservatives. Also a variety of less common grains for various dietary needs.