Fresh Produce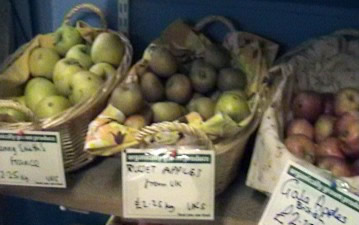 Gaia stocks seasonal organic produce from the nearest available suppliers so that you can be sure it's not only fresh but also farmed sustainably.
Unlike much of the supermarket's 'organic' produce, our fruit and veg does not have huge air miles and we don't artificially prolong the shelve life by irradiation, bleaching or spraying.
Organic Vegetables
Local when & where available, with next nearest available being used to give variety.
Beetroot, Broccoli, Brussels Sprouts, Cabbage, Carrot, Cauliflower, Celeriac, Cucumber, Garlic, Ginger, Kale, Leek, Lettuce, Mushroom, Onion, Parsnip, Pepper, Potato, Spinach, Swede, Sweet Potato, Tomato, Turnip
Organic Fruit
Local when & where available Fairtrade where available. We avoid more perishable tropical fruit.
Apple, Apricot, Avocado, Banana, Cherry, Grape, Greengage, Kiwi, Lemon Mango, Orange, Pear, Plum, Strawberry, Tangerine
Organic Vegetable Bag Scheme
We make up bags of fresh organic vegetables and organic fruit twice weekly for collection and home delivery. We deliver locally by cycle.