Chilled Foods
Organic Cheese
A select range of organic British cheeses from family run organic dairy farms and organic foreign chesses produced by smaller suppliers with good ethical standards.
All of our cheese is suitable for vegetarians, as it contains only vegetable rennet.
Organic Yoghurts, Crème Fraîche & Milk
All our dairy produce comes from family run organic dairy farms that have complete control over the process from raising the animals to packaging the finish product.
Dairy Substitutes
We have a range of very good vegan cheeses in a range of traditional cheese flavours, some of which almost do melt!
Non-Dairy 'Milks'
A variety of substitutes for cows milk for vegans and those with lactose intolerance.
Meat Substitutes
A diverse range of meat replacements in all the traditional forms, some scarily close to meat taste and texture, others refreshingly different - something for everyone.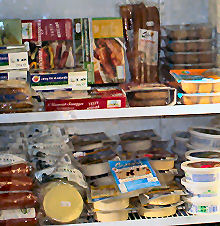 Paul's organic Nut roasts
Paul's organic Burgers - Mexican chilli, Wheat & nut, Five grain & nut, Gluten free
Paul's organic Fresh pies, Pasties & Samosas
Taifun organic Spelt cutlets
Redwood Cheat'in Meat vegan sausages, mince, chicken style pieces
Dragonfly beanie burgers, gluten free sausages
Fresh Vegetable Products
Taifun Tofu - Plain, Smokey, Basil, Chilli & Tomato, also pizza tofu
Delphi Hummus, 3 bean salad, lentil salad
UK produced organic Hummus & Bean spouts