Bread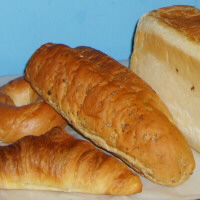 Locally Produced Bread
West's Bakery of Wellesbourne is an award winning traditional bakery and a family run business making & cooking all their produce on the premises from locally milled flour.
West's Breads & rolls - Harvester (granary), Wholemeal, White, Wheatmeal, Croissants, Bagels, Ciabatta - fresh daily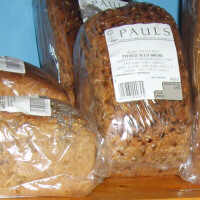 Organic Vegan Bread
We buy Paul's Bread because it is organic standard, and includes specialist breads such as the Gluten Free. It is also very delicious.
Paul's Breads & rolls - Wholemeal, Sourdough, Rye, Light rye, Spelt, Yeasted spelt, Sourdough, Pain de campagne, Gluten Free, Mixed seed, Mixed seed rolls & Sesame seed rolls, Tea Cakes - fresh Mondays, Wednesdays and Friday
Pre-Packaged Breads
We have a range of wheat free, gluten free and preservative free long life seed and sprouted grain Breads.
Mestemacher organic Wholemeal rye bread, organic Linseed bread from grain ground in their own mill (wheat free)
Biona organic Millet bread (gluten free, yeast free)
Sunnyvale organic Sprouted wheat bread, Sprouted spelt bread, Sprouted hemp bread good source of omega 3 (gluten free)